To associate a custom domain with your account on our service, follow these steps:
Go to your DNS zone and create an "A" record.
Set the Host to "@" and the value to our IP address: 3.219.102.216.
Wait for the DNS changes to propagate (which can take up to 36 hours).
Go to the "branded domain" section on our platform's dashboard.
Select "Add new domain".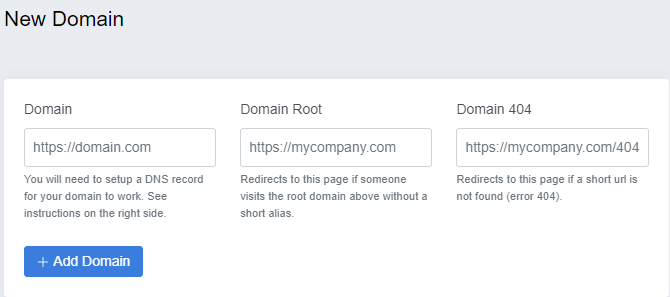 In the fields provided, enter the following information:
Domain (required): the domain that you set up in your DNS. If we haven't assigned you an SSL certificate yet, use "http" in the domain section.
Domain root (optional): if you want the domain to redirect whenever someone types your domain/subdomain in the browser's address bar.
Domain 404 (optional): the URL of your "404 Not Found" page, to be used when people type your domain in the browser's address bar but the destination page is no longer available.
Your final custom domain should now be pointing to our server, and it should look like this: "domain.com"
The instructions for setting up a custom domain with various domain providers are listed below.
If you encounter any issues setting up your custom domain, please don't hesitate to reach out to us via live chat for assistance.